Company JOVBAK s.r.o. was founded on 17 February 2003 and it is successor to the business activities of the company BONA J4 s.r.o.
Our company provides distribution of baking ovens of all types and sizes, bread dough making and processing machinery, wrapping and cutting machines and other baking technologies. We offer devices of Czech and West-European producers separately or as a complete line. We also provide supply, assembly and sale of spare parts. Our specialization is region of Eastern Europe, Near East and other countries of the former Soviet Union. Our company has been trading in this region since 1996 under old name BONA J4 s.r.o. or new name JOVBAK s.r.o.. Recently we have majority of activities in Ukraine, where we have also established our business representation.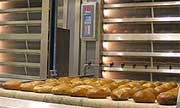 Our Czech business partners
Kornfeil s.r.o.
Producer of deck, rotary and convection ovens, charging equipment, heat exchangers, ecoblocks (equipment for reprocessing of waste heat) and box proofers.
Home page: www.kornfeil.cz

SKLÁŘSKÉ STROJE ZNOJMO s.r.o.
Company J4 s.r.o. produces baking tunnel belt PPP ovens,repairs and reconstructs old PPP and PPC ovens.
Home page: www.sszn.cz

Topos a.s.
Producer of vertical and spiral mixers, kneading trough tilters, troughs, roll makers, croissant makers, deep-fry systems, forming lines and flour screening machines.
Home page: www.topos-europe.cz

Liberecké strojírny s.r.o.
Producer of baking machines, pastry-making lines, rounder, moulder, conveyers and special equipment.
Home page: www.lscr.cz

Mopos a.s.
Producer of equipment for bakeries and malt houses.
Home page: www.euromopos.cz

We are also dealer for Ukraine of a Swedish company
Werner & Pfleiderer Haton B. V.
Worldwide known producer of latest bakery technologies.
Home page: www.revent.com